With many of us growing up watching "The Love Boat", it's easy to understand the romance surrounding a cruise ship-wedding, but is it all sunsets and cocktails?
Getting married aboard a cruise ship is a romantic and surprisingly affordable way to exchange "I do's". From unique themes to unusual requests, the cruise lines have seen it all and then some.
P&O Cruises Ceremonies and Celebrations Coordinator, Natasha Bhan, recalled a pirate-themed wedding she helped to organise for one couple in love.
"There were feathers in their hats and bouquets, the groom had a fake parrot on his shoulder and their vows were even written in pirate language!"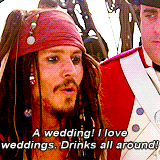 Then there was the request for a 30-metre "just married" sign and tin cans to be attached to the back of the ship.
"Unfortunately, we were unable to accommodate that particular request!"
If you're envisaging images of sunsets and endless ocean-filled horizons, it's important to check if the cruise line offers ceremonies actually held "at sea".
P&O and Carnival ceremonies are only hosted onboard prior to the ship departing its home port and the only guests allowed to attend are those also booked on the sailing with you.
A variety of ships sailing under the Princess, Royal Caribbean, NCL and Celebrity banners offer the option of getting married in international waters by the captain (legal under the authority of the ship's registry), prior to the cruise setting sail and ashore in a range of ports around the world. Since October 2017, Celebrity Cruises captains also proudly perform legally-recognised gay marriages.
Princess Cruises was the first cruise line to offer weddings at sea and, in exciting news for brides and grooms-to-be, Majestic Princess will be the newest Sydney wedding venue when she returns in September by joining cruise lines including Royal Caribbean in allowing non-sailing wedding guests to board the ship for the ceremony and disembark prior to departure.
Esteemed wedding celebrant, Liz Taylor, is well-versed when it comes to officiating ceremonies both onboard and on land and has a few tips for those considering a cruise ship wedding.
"Remember to carry your wedding dress, shoes and anything else you may need for the ceremony with you when you embark, because your checked-in luggage won't be accessible until after the ceremony."
Liz Taylor, Wedding Celebrant
With the ship's photographer capturing all the special moments as part of your package, Liz also suggests creating a detailed brief to share with them with examples of the styles of photos you are after and which guests, in particular, you'd like captured as part of your wedding.
"Unlike weddings on land, you won't get the opportunity to meet your photographer prior to your big day. So being as detailed as possible with what you're after makes it much easier for all involved," she explained.
Liz ensures she rehearses with all couples prior to their wedding day so that they have a familiar face onboard, to help ease those nerves and to ensure that everything is planned out as best possible prior to walking down the aisle.
For those not on a Kim and Kanye budget, a cruise ship wedding is a perfect choice with the base package including venue hire, a dedicated wedding coordinator, ceremony flowers, wedding photography and the wedding cake coming in at an average starting price of $2,500.
You can then add more bells and whistles as you like, with many unique touches available including exclusive venue hire of specialty restaurants such as Salt grill by Luke Mangan on P&O Cruises or Wonderland aboard Royal Caribbean.
Then, it's honeymoon time as you set sail into the sunset toward marital bliss… with your nearest and dearest along for the ride of course.
Have you attended or taken part in a wedding at sea?