Sunday is International Women's Day; a day to celebrate the social, economic, cultural & political achievements of women all around the world. But what does it actually mean for women and how can we strive for equality, right now?
International Women's Day has occurred for well over a century, with the first IWD gathering in 1911 supported by over a million people. Thankfully, women's rights and equality have come a long way since then. Today, the IWD belongs to all groups collectively everywhere.
This is a call to action for accelerating women's equality.
But what else can you do to stand up for women, aside from sharing a feminist meme or posting an inspirational quote?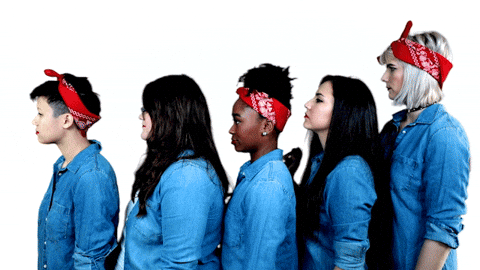 You can support the movement by choosing to challenge stereotypes, fight bias, broaden perceptions, improve situations and celebrate women's achievements.
With our collective consciousness, we can empower women everywhere and change the world for the better.
READ: FEMALE EMPOWERMENT: Delta Inspires Girls To Follow Their Aviation Dreams
READ: THE FUTURE IS FEMALE: Flight Centre Wants 50% Female Leadership In 2020
Where does the travel industry stand with #EachForEqual?
The travel industry should be proud of their representation of equality. We work in a female-dominated industry and have many inspiring women in leadership positions.
Shout out to Ann Sherry, Melanie Waters-Ryan, Wendy Wu, Fiona Dalton, Cinzia Burnes (to name just a few), and ALL the women doing wonderful things in the industry.
According to Womenwise, a platform established in 2015 by a group of Flight Centre's senior female leaders to inspire all women, FCTG's global workforce is 75% female, with a network of strong, fierce women leading businesses around the world.
When you look across the board, the travel industry is doing lots of things rights, however, there is always room for improvement.
Airlines and hospitality still seem to have a lack of women in senior roles and we would love to see more diversity when it comes to disability and ethnicity within the industry.
In a recent Q&A with Anna Fawcett, Global Marketing Manager at Topdeck talked about the change she would like to see in the industry, moving forward.
"I'd love to see a change in attitude towards the travel industry and thus a change in vocational training and salaries. In AUS and NZ there is actually a very good view of tourism, its contribution to the economy and salaries is comparable (to an extent/job dependent) with other industries. However places such as the UK are still catching up, tourism brings in more to the British economy than the car industry, however, tourism is still looked at like a second rate career – mind-blowing!"
READ: WOMEN IN TRAVEL: Topdeck's Anna Fawcett Talks Diversity & Female Empowerment
I can relate to this comment on a personal level, after being a travel agent in the UK for three years and having a number of people look down at me by saying "oh, you didn't go to uni?" and "You're just a travel agent?".
Judgement and stereotypes should be left in the last decade, along with racism and homophobia.
By continuing to question decisions and speak out for one another, you can continue to create a better travel industry for everyone.
What do you think the industry is doing well and could improve on when it comes to #EachForEquality? Let us know [email protected]
So what is the real meaning behind International Women's day?
To us, it's celebrating women, everywhere, every day.
It's about the little things, that can make a big impact on a woman's life.
Shine that crown on your colleague's head (even if she's higher up on the leaderboard than you are that week), be a mentor to a younger woman, stand up for a woman who is being gossiped about and listen to the wisdom of women who walk a different path to yours.
Click here to find out more.