Tired of being where the people are? Sick of sitting all day & avoiding the sun in an air-conditioned office? Do you want more? Strap on a green-scaled tail 'cause here's your chance to be part of the underwater world.
Disney Resorts – the crew behind accommodation attached to the Happiest Place(s) on Earth – have arranged mermaid classes for all the big children who want to live out their under the sea fantasies.
Four Disney World hotels have been selected to launch The Little Mermaid-inspired classes where fiery students will learn to swim like Ariel and her sealife friends.
Classes will begin mid-March but are available for booking now at the Art of Animation Resort, Caribbean Beach Resort, Yacht Club Resort, and Beach Club Resort.
Each resort will hold classes hosted by a Florida-based swimming school called The Mermaid Academy on Tuesdays and Saturdays at 8.00am. Humans aspiring to be mermaids will also be able to purchase their fins on-site.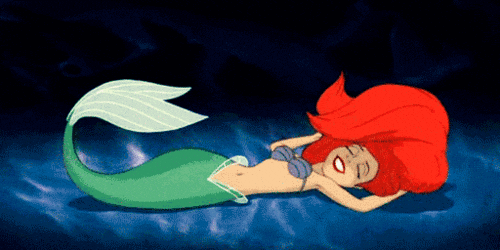 Just FYI, lessons are advertised for anyone over the age of four, however, it does seem as though anyone signing up beyond the tween years may be deemed poor unfortunate souls.
But don't get cold fins, because mild embarrassment is a risk worth taking to be out of the clouds and in the water. Back where your inner child feels it belongs.
Click here for more information on Disney's Mermaid School.
Have you always wanted to be part of Ariel's world?