We're all seeking happiness and where better to search for it than the stunning islands of Fiji. There are a number of wonderful ways to spread kindness and share smiles by doing good on your next trip… so where would you like to start?
Studies have shown that when you care for others and give back, it boosts your immune system and strengthens your mental health. How sweet is that?
Beyond the personable benefits, giving and sharing creates stronger connections between people and communities and helps build a happier society for everyone. So choosing to do good, not only gives yourself all the warm-fuzzy feels, but your happiness is a domino effect on other people and our magical Mother Earth.
Here's the perfect opportunity for you to learn about how your clients can pay it forward on their next holiday to Fiji.
Professor Lea Waters believes that we should be kind to the people who make us smile, the nature that makes us feel alive and the animals that inspire our curiosity.
AND WE FULLY AGREE. Preach it, Sister!
Adopt an attitude of gratitude. Gratitude is one of the most powerful ingredients for happiness. When you get into the habit of noticing and appreciating the good things in your day it gives you a bigger perspective on life and helps you to not stress the small stuff.
Professor Lea Waters
So how exactly can we give back in Fiji?
Well, there are numerous opportunities for visitors to get involved and spread happiness in the Pacific:
1. Immerse yourself in local culture & support remote villages
In Fiji, it's the people who make you smile. They are the most contented bunch you'll ever meet and there are multiple ways to reciprocate the 'Bula Spirit'.
Vinaka Fiji Volunteering invites travellers to share the magic of Fiji while helping the people of the remote villages of the Yasawa Islands. Kind-hearted travellers can choose from helping with key areas of need which range from teaching young school children, planting crops, installing water tanks or working in baby clam nurseries.
Sigatoka River Safaris and Talanoa Treks also both take travellers to remote villages in Fiji to experience local life, and the cost of the experiences go directly back to those communities to fund development projects
How good is that?
2. Helping those wanting to learn
We are all eternal students of life and learning comes in all different shapes and sizes throughout our journey.
In 2014 Outrigger Fiji Beach Resort saw that their local school district was in need of some help and that guests were eager to help. Their Community Tourism initiative initially started off with staff and guests alike helping build a large Bure at Conua School in the Sigatoka Valley.
Nowadays, guests can get their hands dirty and assist in building additional classrooms, while also getting the special opportunity to interact with the local school children, share a bowl of kava with the local villages and finish off the day with a visit to one of Fiji's most prestigious cultural sites, Tavuni Hill Fort.
This project has become a quintessential experience for guests at Outrigger and a way for them to give something back to their ever-smiling Fiji hosts.
3. Happiness = planting trees
Spreading kindness can extend all the way to the Earth in Fiji.
You can choose to offset the carbon footprint from your flight to Fiji by planting mangroves with various tourism operators, including Beqa Adventure Divers, Uprising Beach Resort and Shangri-La's Fijian Resort & Spa.
The newly planted mangroves have an immediate benefit for the adjacent reefs and act as a nursery for marine life as they grow over time. It's a beautiful way for you to leave your mark in Fiji and help directly to contribute to the natural beauty of the country.
Where would we even be without these wonderful little sea trees?
4. Protecting marine life because turtles are life
DUUUUUUDEEEE. Now, it's clear to see that turtles are the cutest and coolest little creatures and we all know kindness isn't limited to just humans.
You can play a vital role in spreading kindness to the marine life of Fiji as well!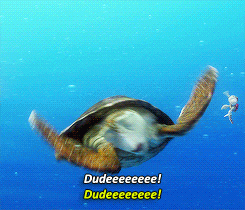 Treasure Island Resort runs the Hawksbill Turtle Conservation programme and takes on the role of giving these beautiful animals the protection they deserve.
The kiddies can get involved too, as the resort's Little Treasures Kids' Club gives the future generation of environmentalists and marine biologists the opportunity to help with the conservation efforts by encouraging them to forage for turtle treats and helping make the turtle pools feel nice and homely.
That's enough to put a smile on everyone's face!
5. Share the love and regenerate the coral eco-system
Our oceans need some serious TLC right now, so why not give our eco-systems all the kindness in the world. Coral ecosystems are key in providing food, shelter and protection for our little marine friends, such as smiling little fishies, turtles, reef sharks, and mermaids.
At Castaway's Island Resort, there is a weekly Ozone programme every Thursday, in which guests can participate in assisting their in-house Environmental Officer in coral planting initiatives. So far, this programme has successfully planted over 100 football fields worth of coral since 2014.
That's pretty impressive, hey?
Similar initiatives can be found at Outrigger Fiji Beach Resort, InterContinental Fiji Golf Resort & Spa and Shangri-La's Fijian Resort & Spa.
A strong coral eco-system makes for a happy ocean, which makes for happy animals and happy people – a win for creating a happy planet!
Spreading kindness is really that easy. Soul smiles are just a hop, skip and a jump away!
Click here for more information.