Happy Halloween! It's the spookiest day of the year and the perfect time to show off your pumpkin carving skills, embrace elaborate dress up and eat your body weight in those little 'fun-sized' packs of choccies.
No matter how old you are, Halloween always seems to be somewhat magical.
Granted, Halloween in 2020 might look a little different to 'normal', but perhaps wearing a mask and possible lockdowns will make the outfits and festivities even more creative.
So anyway… did you know that Halloween is also known as Allhalloween, All Hallows' Eve, or All Saints' Eve? Over the past decade, Halloween traditions have spread worldwide, so let's see how each country usually honours this ancient celebration of life and death.
China
Halloween was introduced in China through foreigners who have moved there. In places that have many expats, there will usually be Halloween decor. The more popular days of the dead are celebrated in festivals such as the Hungry Ghost Festival, the Qing Ming Festival, the Double 9th Festival, and the Spring Festival.
Japan
Halloween in Japan became popular when Tokyo Disneyland and Universal Studios Japan began to promote Halloween celebrations. This year, Tokyo Disneyland had its first Halloween event, which has grown tremendously in popularity. The Japanese currently enjoy celebrating with decorations and dressing up in costumes.
Ireland
Halloween is considered to have originated in Ireland. Apart from trick-or-treating, children also play a trick known as "knock-a-dolly" which involves children knocking on their neighbors' doors and running away before they answer them. Additionally, the Irish play a card game on Halloween whereby kids will choose a card and receive whatever prize is indicated on it. The Irish traditionally eat a fruitcake called barmbrack on this day. Barmbrack has a treat baked inside the cake and, depending on which treat is inside, will foretell the future of whoever receives it.
UK
The origins of Halloween can be traced back to the ancient Celtic festival of Samhain. Until 2,000 years ago, the Celts lived across the lands we now know as Britain, Ireland, and northern France. The festival symbolised the boundary between the world of the living and the world of the dead. It was believed by the Celts that on the night of 31st October, ghosts of their dead would revisit the mortal world and large bonfires were lit in each village in order to ward off any evil spirits that may also be at large. Nowadays, children in the UK like to celebrate with the "trick-or-treat" custom, which originated in England known as "Mischief Night"; dressing up in scary outfits and collecting treats from neighbours.
Austria
Austria has a Pumpkin Festival in Retzer Land called 'Kürbisfest im Retzer Land'. On November 11, Austria celebrates Martini which includes costumes and a lantern procession. Some people in Austria believe that if they leave bread, water, and a lighted lamp out, dead souls will be welcomed back to earth for that night.
Germany
In Germany, people start to decorate around mid-October and use Halloween as a party theme. They hide their knives on Halloween night because they do not want to risk harm to (or from) the returning spirits. On November 11, Germans celebrate Matinstag which includes costumes and a lantern procession.
Sweden
Halloween is known as "Alla Helgons Dag" and is celebrated from October 31 until November 6. As with many other holidays, "Alla Helgons Dag" has an eve, which is either celebrated or becomes a shortened working day. The Friday prior to All Saint's Day is a short day for universities while school children are given a day of holiday.
North America
The Halloween celebration began with Scottish and Irish immigrants who arrived in the 1800s and the commercialisation of Halloween started in the 1900s, when postcards and die-cut paper decorations were produced. Halloween costumes started to appear in stores in the 1930s and the custom of 'trick-or-treat' appeared in the 1950s. Now, the USA and Canada actively celebrate Halloween each year on October 31 with decorations, costume parties, and trick-or-treating.
Latin America, Mexico & Spain
Dia de Los Muertos (Day of the Dead) is a popular celebration in these cultures. The belief is that on October 31, spirits visit their families and then depart again on November 2. The families set up decorations and food for the arrival of the spirits. This time period represents a celebration of death as opposed to mourning it.
Halloween Joke time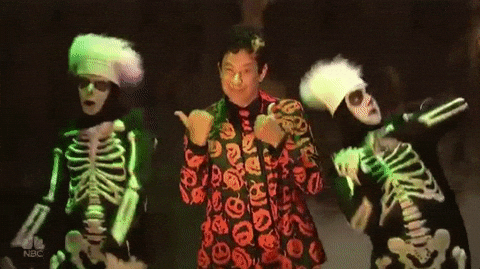 Why are demons and ghouls always together?
… Because demons are a ghouls best friend!
Whatever you do this Halloween, we hope it brings a spooky smile to your face.
Be sure to send your 2020 Halloween photos to us at [email protected]