From December to March, you can experience date night with a difference at the unique and spectacular floating cinema in Darling Harbour's Cockle Bay.
The team behind the outdoor movies in bed (Mov'in bed) and the drive-in cinema (Mov'in Car) have been secretly working with Darling Harbour on Australia's new summer sensation.
Get ready for Mov'in Boat.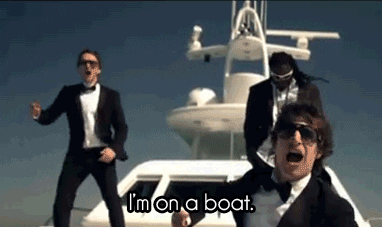 The clue's in the name. Watch a movie, in a boat. Pretty cool, hey?
This epic floating cinema experience will be happening in Darling Harbour from December 2020 to March 2021 and you definitely don't wanna miss it.
Floating cinema? Yes please
Situated on sparkling Cockle Bay, the 1000 sqm floating platform will feature 40 row boats for hire, 65 summer lounge beds and two floating bar experiences.
If you can't find your sealegs, you'll be pleased to know the full 4K 15-metre screen and the 30 surround speakers will be creating an immersive show on shore too. 
Because movies and snacks go hand in hand, whichever option you choose allows you to order food and bevvies and have them delivered to your lounge bed or boat via jetski. How very rockstar.
There are four spectacular ways to experience Mov'in boat, check them out:
1. Watch your favourite movie in an extra comfy classic rowboat, with tailored back seats and room for four people. This option costs $119.90 per boat.
2. Watch your movie comfortably lying on one of the floating pontoons Queen size day bed – equipped with a bedside table and room for up to three people. This option costs $99.90 for two people and $109.90 for three people.
3. Be a VIP for the night, travel first class with The Star Sydney and get access to the best sit in the house. Featuring bed-side tables, umbrellas, complimentary soft drinks, popcorn, and access to The Star's VIP Bar which includes cocktails from their signature restaurants. Guests will also be able to experience fine dining whilst watching a movie by pre-ordering their favourite meals from Table For 2, which includes Flying Fish, BLACK Bar and Grill, Sokyo and Fat Noodle. This experience costs $149.90 for two people and $169.90 for three people.
4. Got your own boat? Make your way down to Darling Harbour and enjoy a screening from your small dingy or luxury yacht. This option is $49.90 per boat, with as many people as you'd like. 
What movies are showing?
The Sydney Harbour movie line-up is a good one and covers just about every genre; including blockbusters, classics, roms-coms, and kids movies.
The opening night on the 3rd of December will feature the irresistible Dirty Dancing starring Patrick Swayze and Jennifer Grey. What better way to kick off the summer than with the time of your life?
Moviegoers will also have the chance to view some fan favourites like Lion, Tenet, Interstellar, James Bond Goldfinger, Matrix, Casablanca, Elf, The Broken Hearts Gallery, Death on The Nile and many more.
If you want to dive right into the harbourside theme, you can immerse yourself in into Free Willy, or The Meg. 
The deets…
When? December 3rd 2020 – March 21st 2021
Where? Darling Harbour – Cockle Bay
So, what are you waiting for? Get your crew together and plan a date under the stars.
Click here to get your tickets.