It's an exciting day because not only is it Halloween, it's take-off day for the inaugural Melbourne to San Francisco nonstop service with United Airlines, connecting Aussies to more than 70 U.S. destinations via United's SFO hub.
This route marks the fifth out of Australia for United, allowing for greater access to the U.S. and beyond, with the world's most comprehensive network. United Airlines is offering the most connected service between Australia and the U.S. West Coast by any U.S. carrier.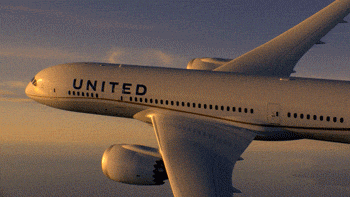 The nonstop, year-round service between Melbourne and San Francisco will fly three times per week on Boeing 787-9 Dreamliner. The Boeing 787-9 Dreamliner aircraft will feature a total of 252 seats – 48 United Polaris business class, 116 United Economy, including 88 Economy Plus.
READ: QUEEN TEAM: SF Travel and SFO International Airport Celebrates New MEL-SFO Route
READ: UNITED AIRLINES: Pledge To Decarbonise Flights + New Vegan Menu
"Australia continues to be a strong international market for United, and we are committed to connecting Australians to more destinations in North America. We know Australians love San Francisco and are proud we can now deliver Melbournians there in style."
Julie Reid, United's director for Australia, New Zealand and Tahiti Sales
The first flight
To celebrate the launch of Melbourne to San Francisco, United Airlines conducted a ribbon and cake cutting ceremony prior to the inaugural flight departure today. Major stakeholders from United Airlines and Melbourne Airport were present to mark the occasion, including Julie Reid at United and Peppy Adi-Purnomo, Vice President Aviation Development at Melbourne Airport.
Melbourne Airport Chief of Aviation Andrew Gardiner says the new service was a win for Victorian travellers, as it not only facilitates travel to San Francisco but also the U.S. west coast.  "We are pleased in United's decision to add a non-stop connection between Melbourne and San Francisco, as the city is currently the second most visited U.S. west-coast destination out of Melbourne. The service meets the demand we're seeing between Melbourne and the U.S., and given San Francisco International Airport is United Airlines' hub, there will be no-shortage of on-going flights available for Victorian travellers to choose from, providing connections to both the west and east coast," said Gardiner.
"Visitation to San Francisco from Australia is continuing to grow and we are thrilled to see this new flight launch. There are many synergies between Melbourne and San Francisco and this new direct United Airlines route will only strengthen that connection and further encourage travel between the two cities."
Joe D'Alessandro, President and CEO of San Francisco Travel
Melbourne – San Francisco Flight Schedule
Departing Melbourne at 11:30 am, flight UA61 will fly every Tuesday, Thursday and Saturday and will arrive in San Francisco at 6:40 am the same day.
Flights will depart San Francisco at 10:45 pm on Tuesday, Thursday and Saturday, and arrive in Melbourne at 9:30 am two days later
(Local times)
Click here for more information.