You might think of golden delicious as an apple, but we regard it as the northern part of the South Island where everything is golden. The scenery, the sunshine, the sunsets, the smiles from your new (local) best friends are totally golden. And, even if you arrive frazzled from 2021's vibes, by the end of your visit, you'll be golden too.
Across a region gifted with the Midas touch, we've selected our top picks for a golden Nelson Tasman and Marlborough vacay.
7-Day, 280km: Go Nelson Tasman & Marlborough
Day one, fly into Wellington to access Picton and the gorgeous Marlborough Sounds via the scenic Interislander ferry across the Cook Straits. The scenic Sounds Air flight is epic, too.
Picton is the heart of the Marlborough Sounds with a vibe that sets the tone for a relaxed holiday. Explore the picturesque harbour and pop into the galleries, cafes, and the maritime museum.
You can day trip to explore the dreamy Marlborough Sounds: choose to hike, bike, cruise, fish, kayak, and even go dolphin watching. However, if you've time (highly recommended), the entire Queen Charlotte Track is a Marlborough Sounds highlight. The spectacular bay scenery impresses at every turn, quaint homesteads line your route, and you can even have boats drop your hiking pack at your destination each day. So good!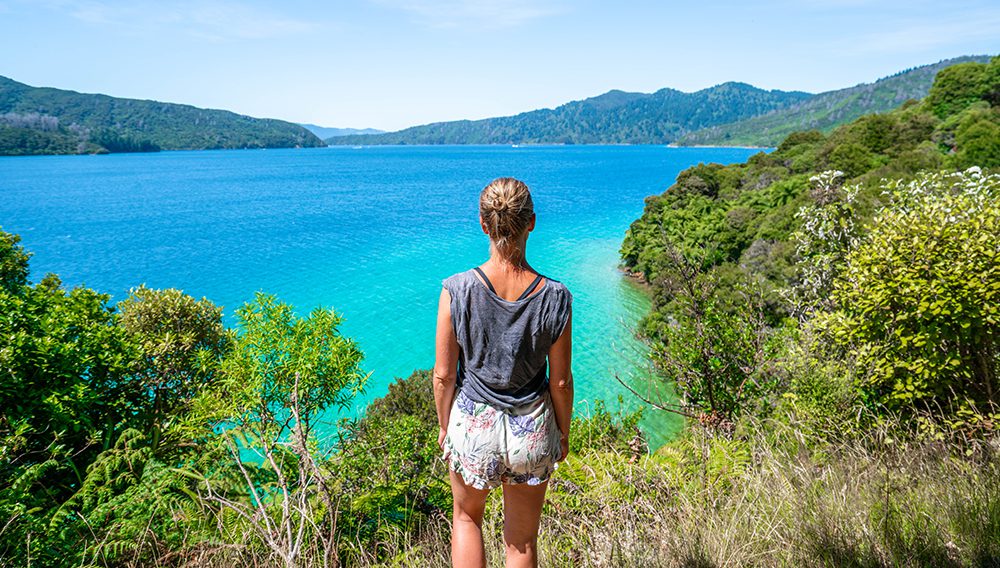 Day two (or five, if you're doing the Queen Charlotte), reward your outdoor efforts at Marlborough's world-acclaimed vineyards and cellar doors. With 120 wineries and 30 cellar doors, there are plenty to reward your hiking efforts! Follow this wine trail guide to pair to your tastes.
Day three, drive 120 kilometres to Nelson, gateway to spectacular beaches, rivers, lakes, mountains, and native bush. Today, explore Nelson City, including the creative arts scene that Nelson locals are famous for. Ooh, and the fertile hills surrounding Nelson provide yummy fresh produce for the local cafes and restaurants.
Start day four with a 30-minute drive to Cable Bay, a highlight of the Nelson Tasman region for those in the know (i.e., you!). The Cable Bay Walkway is an incredible day hike; allow 3.5 hours each way. There's also a host of adventure activities out here, including snorkelling, kayaking, or the thrilling Cable Bay Adventure Park.
Day five, another trip highlight: Abel Tasman National Park! En-route, stop at Mapua Wharf, 30-minutes out of Nelson. This former fruit-shipping port is now a trendy spot for shopping, dining, and recreation.
Nelson Tasman's most golden destination has to be Abel Tasman National Park. Walk the remarkable bayside trails, witness wildlife on land and in the water, and take time out in stillness on the beaches, in the bush, and beside waterfalls. Day trips are great, but the rewards are greater on the full 60-kilometre Abel Tasman Great Walk.
Day six, head to Golden Bay, the lesser-visited region of northern Tasman. Discover the wetlands and world's longest natural sandspits at Farewell Spit, or surf the wild Golden Bay waves.
Day seven, either retrace your steps back to Wellington Airport, or spy fresh scenery by heading to Christchurch International Airport via Westport and Hanmer Springs.
Top Five Ways to Stay Golden
Outdoors – outdoor lovers are spoilt for choice across both regions. You could easily spend days soaking up the good vibes at Abel Tasman National Park, New Zealand's smallest but most accessible national park. Or pair the gorgeous trail with the homely lodge vibes along the 72-kilometre Queen Charlotte Track.
Adventure – if you love being in the saddle, biking across Nelson Tasman and Marlborough is top-notch. Nelson even received a 'gold' for their trails. For a more leisurely bike ride, rest often at every cellar door you pass in the Marlborough region. Want more relaxed still? Rent an e-bike for Tasman's Great Taste Trail!
Art – Nelson City offers a colour explosion across its art galleries, quirky boutiques, and bustling Saturday markets. The craft breweries express their craft (geddit?) in an entirely different way. The way to work out if that IPA is art? Taste one, of course!
Quirky – small-town New Zealand always delivers surprises, and it's no different in the Marlborough region, where you can take a mail boat cruise! Yup, the post gets delivered by sea, and you can go along for the ride out into the stunning Sounds.
Historical – in Blenheim, the world-renowned Omaka Aviation Heritage Centre offers a glimpse into the famed fighter pilots of WWI and WWII.
Get Inspired
Get a slice of one of the world's best hikes.
Curious how much you can cram into a visit to Nelson Tasman? Check this out.
Taste-test a slice of golden delicious!
---
Driving Nelson, Tasman, & Marlborough
For Aussies driving Nelson Tasman and Marlborough, it's a breeze. You'll want to add some time to your trip plan to navigate the windy, hilly roads (and the selfie ops), though.
Also, keep an eye out for the quintessential Kiwi traffic (sheep and other livestock), crossing, especially around the Tapawera and Golden Bay regions.
Get the Road Trip Playlist
We love top tunes to inspire us for a road trip.
Nelson Tasman has revved the ol' explorer engine with these carefully selected tunes. Why not add Chvches Make them Gold, to the playlist to make it even more golden.
For Marlborough, how about the Sound(s) of Silence to go on their transportive 5-track playlist?
Travel Advisor? Gain Access to the Marketing Hub Toolkit Here
Want a gold star when you attend the fun and informative 8 December Nelson Tasman and Marlborough webinar? Swot up in the Tourism New Zealand Marketing Hub Toolkit.
Whether it helps you win one of the five flights to New Zealand and five regional gift hampers, we can't reveal (not even for a piece of Nelson fudge), but you've got to be in it to win it. Register now.
See you on 8 December for an hour of pure gold!
This article is brought to you by: