Fancy turning your standard 20 days into 60 days of holiday in 2021? Well, with a little extra planning, you can… so grab your suitcase and get ready make up for lost beach/adventure/chill/play time.
Are you totally and completely ready to book a number of fun-filled escapades in Australia and beyond this year? (bring on the bubbles!)
With a bit of clever planning around weekends and public holidays, you can maximise your days off and bag yourself 60 days or more of holiday time in 2021… no matter which state you live in.
Those living in TAS and the ACT have the potential to book the most time off (60 days), followed by WA, VIC, and SA with 57 days. NSW has pulled the short straw this year with 54 days.
However, that still means that every state and territory in Australia offers enough time to jet off at least 7 times in 2021. Even if it's just a cheeky city break or quiet cabin getaway over a long weekend.
And, let's keep it real, you 100% deserve 7 trips this year after the chaos that we all endured in 2020.
(Travel counts as therapy, right?)
READ: 2020's Word Of The Year Has Been Announced: Now What's Yours?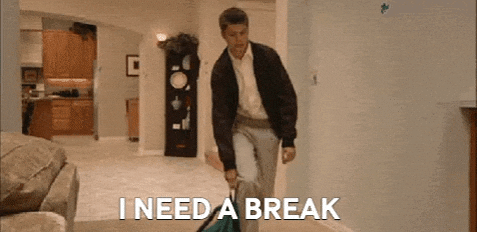 Okay, so you need to concentrate on the public holidays. These little gems are essential for making up extra time. So after New Year's, we've got:
Australia Day
Anzac Day
Easter
the Queen's Birthday
Labour Day
Christmas
It might seem a little crazy to start thinking about New Year's next year already, but the trick is to take extra holiday over the festive season, as New Year's Day 2022 falls on a Saturday, which means you will get an extra day off on Monday 3rd.
Work your annual leave magic right now
Easter Adventures: turn 8 days of annual leave into 16 days off.
It'll be a very Happy Easter indeed with double holiday time over Easter long weekend.
Book your holiday dates from Saturday 27 March to Sunday 11 April and enjoy a whopping 16 days off.
You're welcome.
Festive Season: turn 3 days of annual leave into 10 days off
Who knows what this year will bring and although we're totally holding out for a much brighter one, a chunk of extra time off to get merry around Christmas is always needed.
So Christmas… Christmas Day and Boxing Day fall on Monday and Tuesday this year, giving you a four-day weekend.
If you then book off three days (Wednesday to Friday) and tack on the New Year's Day public holiday (Monday 1 January 2022) and you've got 10 days off work for the price of only three annual leave dates.
How good is that!
Want even more?
Click here for a full state-by-state holiday hack rundown, thanks to Finder.