Cruise is BACK and the hunger for the open sea is higher than ever. This is why your pal O'Captain is making his long-awaited return and bringing you his top reasons why you need to get behind cruising this year and next.
Let's get straight into it, shall we?
1. Future Cruise Credits – There are over a cagillion dollars in unused future cruise credits sitting in Aussie or Kiwi hands at the moment (I made that up… there's only a bazillion).
2. Australia and New Zealand are the world's "safe zone" – The late Peter Balmer (don't worry, he's alive and well, but just constantly tardy) of Cruise and Coach World and formerly with APT had a remarkable story about the time he was in in the Banff Springs Golf Course, and an emergency announcement went over the PA warning golfers that there was a bear on the course.
Immediately, there was a rush of two-way traffic at the doors of the country club with Americans rushing in for safety, and the Aussies and Kiwis running out to have a closer look (Probably putting honey on their faces and picnic baskets down their trousers).
Aussies and Kiwis sometimes aren't the brightest people in the world but will travel anywhere at any time (when they can). But in the grand scheme of things, Australia and New Zealand are currently the world's 'safe zone' and expect tourists to come en masse.
With Putin making Europe less attractive, and domestic US travellers under the constant threat of random acts of violence by Will Smith, where can Americans go?
When the Middle East is unsafe, people flock to Morocco. When Africa looks dangerous, people flock to South America. When I have an angry wife at home, I go to the pub. And when both America and Europe are under Putin/Smith's watch, the safest bet in the world right now is in our own backyard.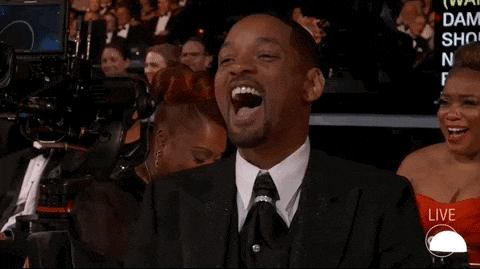 3. Cruise Lines pay commission. Handy.
4. The airports are swamped – Currently, people have to fly to Newcastle or Canberra just to get to the end of the security screening line for flights out of Sydney. True story.
5. There's a lot of flight rescheduling – If I have clients who want to fly to Melbourne on the weekend, I book flights to Hobart departing on Tuesday and arriving back on Friday, knowing that with the amount of reschedules, there's a good chance they'll eventually get the Friday night down and Sunday night return to Melbourne by the time the flight goes.
6. $#$# is expensive is right now – Case in point, if you were going to do a week-long road trip to Cairns from Brisbane in a Skoda Karoq (as if you'd drive anything else) with a family of two adults and two kids, it would cost you $450 in petrol, accommodation at $250 a night would be $1500, food at $50 pppd would be another $1400, so a total of $3350 for four.
For $8 more, you can do a cruise ex Brisbane to Cairns on a balcony with a drinks package for mum and dad. Hmmm, what to do, what to do… 38 hours in a car, 12 wee stops, and unlimited 'I spy', or 7 days on a cruise, where you can wee without stopping the ship or getting out of the pool for that matter, and unlimited drinks. Hmmm.
7. Giant Things – Australians love giant things. But why drive to and from the Big Banana, The Big Pineapple, and The Big Prawn, when you can cruise with a giant thing on top of your ship?
Carnival has the "Yellow Twister," Royal Caribbean has "The North Star," and P&O Cruises has "The Twin Racers."
Mind you, no ship locally or abroad can compete with the awesomeness of "The Frosty Mango," and maybe a shore excursion to Mutarnee is coming in the near future? How 'bout it cruise lines?
8. Service has gone missing on our shores – Reno was a nameless girl, a geographic memory. Candy came from out on the island. They waitress, but their main roles are as an 'influencer' and 'personal trainer/yoga instructor/life coach.'
They can't understand why they aren't getting paid $100k a year for doing what they do. Both just took a week off because they know a guy who knows a guy who knows a guy who had covid, so Reno isolated herself at Byron Bay for the last week, and Candy experimented with herbal enemas for a week.
Right now they are both interested in dating the chef, Raymond, who they both have been instant messaging for the past 20 minutes.
Meanwhile, your $8 cappuccino has become cold whilst waiting to be delivered to you for the past half hour, as is your $20 smashed avocado (not the real thing, that fake mix stuff) on toast with a poached egg instead of the scrambled egg you ordered.
On a cruise ship, there's plenty of food, great service, and real avocado, grown fresh on the Baja deck, not like that stuff from Zarraffa's, and it's all included.
What do you say?