Okay, so international travel might be a little further away than you were hoping but there is still overseas hope in the form of our friends, the travel bubbles. Here's a look at 7 countries Aussies are likely to be able to travel to as soon as we get the green light…
As you begin to start thinking about the reality of an overseas adventure, it's not all doom and gloom, thanks to the talk of travel bubbles and 'safe country' green lanes.
The Australian Government is in discussions with several other governments to open up travel between the countries. Although PM Scott Morrison says that these agreements will in no way be made 'lightly', they do shine hope on the industry and those with extremely itchy feet.
Sometimes it can be totally overwhelming choosing the next holiday destination, so in a way, maybe this could be seen as a shortlist, narrowing your options down and defeating the paradox of choice.
So here are 7 overseas countries we think Aussies will be able to travel to when borders reopen:
1. New Zealand
From Friday 16 October, New Zealanders will be able to travel across the ditch to New South Wales, the Northern Territory, and the Australian Capital Territory as the first step to a planned two-way Trans-Tasman travel bubble.
Australians will potentially be allowed to travel to New Zealand before Christmas, meaning hello travel planning for next year's adventures.
READ: GO! Trans-Tasman Flights to NSW, The NT, & The ACT Are Starting In Two Weeks
READ: Awe-Inspiring Auckland Is Calling… Will You Answer?
READ: 5 Of The Best Food & Wine Experiences New Zealand Has To Offer
2. Fiji
Talks are happening between Australia and the South Pacific, so Fiji is definitely on the radar for near-future trips and my, oh my, do we need some BULA spirit in our lives!
Fiji has successfully kept COVID-19 cases very low and when Australia reopens, we think there is a high chance of an idyllic Fiji vacay on the beautiful ocean sunset horizon.
READ: 7 Epic Eco-Adventures To Reconnect You To Nature In Fiji
READ: Paradise Awaits: 5 Ways Fiji Is Inspiring Us To Get Ready To Visit Again
3. Vanuatu
As above, the South Pacific bubble will put Vanuatu on the map for Australians seeking a relaxing yet culturally rich holiday experience.
Vanuatu boasts a traditional lifestyle and natural island wonders; including an active volcano, incredible dive sites, coral reefs, palm trees, waterfalls, and beaches often untouched by tourists.
"As restrictions ease, we remain hopeful that travel will be allowed sooner rather than later, so it's important that Vanuatu continues to maintain a market presence. We are particularly interested in reaching Aussies who might not have considered Vanuatu in the past."

Ms Adela Issachar Aru, CEO, Vanuatu Tourism Office
READ: "We're Saving You A Spot": Vanuatu's Positive Message To Travellers
4. Japan
Japan is slowly beginning to lift its overseas travel bans and according to Nikkei Asian Review, 'the government will give priority to 10 countries and regions that have a low number of new coronavirus infections, including Australia, New Zealand, and Vietnam.'
Although this mainly covers business and essential travel for the moment, the likelihood of Japan being one of the first countries to open up to Aussies for tourism is looking good.
We are eagerly holding out for the Japan travel bubble and looking forward to stuffing our faces with delicious food, reconnecting with natural wonders and experiencing the magic of the Japanese way of life.
READ: Japan Is (Mindfully) Opening Its Borders Next Month
READ: A Harry Potter Studio Tour Is Coming To Japan & It's Going To Be MAGIC
5. Singapore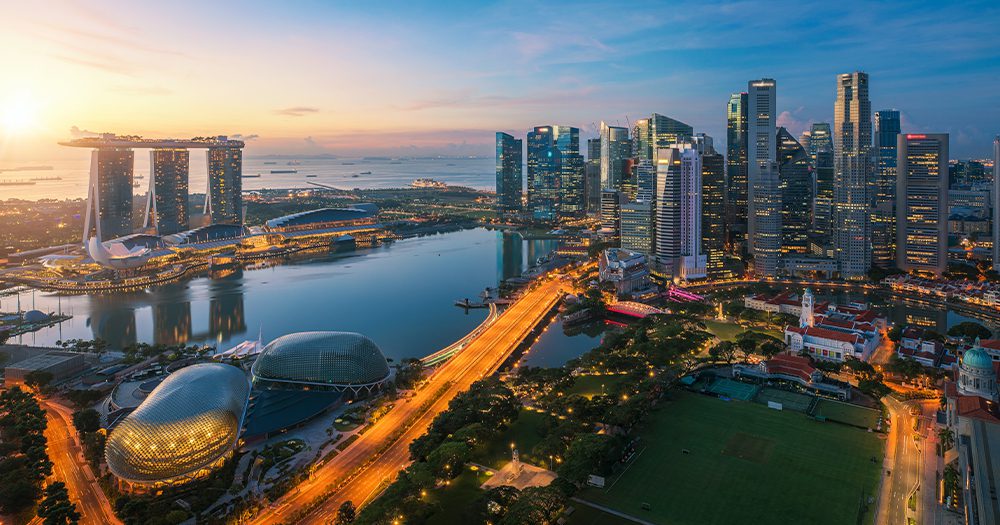 Singapore has lifted its border restrictions to visitors from Australia – excluding Victoria – New Zealand, Brunei, and Vietnam, in an effort to rebuild and revive tourism.
Currently, if you need to travel to Singapore and have the go-ahead from the Australian Government you will be able to apply for an Air Travel Pass, for entry.
The Singapore Air Travel Pass gives the green light for all forms of short-term travel, including leisure travel… meaning that when the Australian borders open, Singapore is a likely candidate for a safe and easy overseas adventure.
READ: Travel To Singapore: Aussies Given The Green Light From 8 October
READ: Dates On A Plane: Singapore Airlines' A380 Restaurant Sells Out In 30 Minutes
6. South Korea
South Korea is an up and coming destination; a new adventure filled with beauty, culture, history, fun, and food waiting to happen.
Thanks to its low number of COVID-19 cases, bubble talks have been happening with South Korea and we are excited to plan a trip and experience this unique country, as soon as we can.
READ: Travel With Heart & Seoul: Become A South Korea Expert Now & WIN!
7. Vietnam
Vietnam was leading the way and opened its borders for tourism from 1 July.
People from 80 countries; including Australians, New Zealanders, and British citizens can apply for tourist visas and start planning their next trip to Vietnam when we get the green light.
We can almost taste the colourful culture, stunning scenery and delicious Vietnamese food.
READ: PHO REAL: Vietnam Will Be Reopening For Tourism From 1 July
Overseas adventures await in the hopefully not-so-distant future.
So get planning!